The Police Crime Prevention Unit was set up on 11th of September 1989. It operates under the aegis of Central Criminal Investigation Division (CCID) under the supervision of Deputy Commissioner of Police (Crime). This Unit is certified MS ISO 9001 :2015.
A Sub Crime Prevention Unit has also been set up in Rodrigues Island on Tuesday 3rd of April 2018.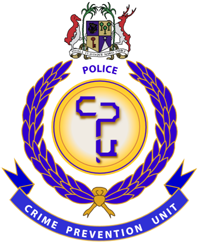 To create Crime Prevention Awareness in the Community
MISSION
To provide a quality service to our customers and satisfy their needs

To promote the interest and confidence of customers

To foster a team spirit, sense of belonging to the unit and be committed to the highest standard of quality and professionalism

To ensure a safe and healthy work environment

The Main Objectives of the Unit:
To secure the community's support in the fight against crime.

To instill in the younger generation the core concepts of good citizenship and law abiding principles. (School Sensitization campaigns).

To enhance public and Police relationship. (Community Policing).

To remove the fear of crime within the community. (Preventive Counseling/ Proactive Policing).

To establish Neighbourhood Watch Scheme in crime prone areas. (Crime Analysis/ Requests).

To visit and reassure victims of crime. (Victim Support and Advice).

Core duties of the CPU:
Crime Prevention Awareness Campaigns.

Field Counselling and Advice.

Victim Support and Advice Programme.

Setting up of Neighbourhood Watch Scheme
DEFINITION OF CRIME
Any unlawful or antisocial act or acts which give rise to public anxiety and which interfere with the quality of life of citizens"
DEFINITION OF CRIME PREVENTION
"The anticipation, recognition and appraisal of a crime risk and the initiation of action to remove or to reduce it."
For a crime to occur, it needs three factors to be present at the same time, TARGET/VICTIM – CRIMINAL – OPPORTUNITY/SITUATION. Remove or change one and the whole equation is altered. Reduction of OPPORTUNITY factors can significantly decrease the rate of crime.

SENSITIZATION CARRIED OUT BY CPU
The Unit organizes/conducts Crime Prevention workshops/forums for the Community through different tailor made programmes for specific categories as follows:
School Sensitization Campaign (Primary/Secondary and Tertiary)

Women Sensitization Campaign

Senior Citizens Sensitization

Disable person /Disability Watch

Business Security

Hospitality Sector

Worker's Education Course (Employees)

Youth Crime Prevention

Parents Sensitization

Setting up of Neighbourhood Watch Schemes

Business watch

Community Mixed Audience Sensitization Programme (SWC & Community Centres)

Rehabilitation Programme ( Pre Release Programme for Prisoners)

Victim Support and Advice Programme

Field Counselling Programme (Salesmen/Business Operators)

Directed Preventive Patrol

Community Policing Forums

Inner Customers (Police Officers and Trainee Constables)

Media Policing (TV ,Radio and Interview to written Press)

Security and Safety Week Cum Exhibition

Security Audit and Survey

Publication of Crime Prevention Literatures (Booklets/Leaflets)
IMPLEMENTATION OF MS ISO 9001:2015
With the dedication of all CPU personnel, this Unit was ISO Certified (MS 1SO 9001:2008) on 11.11.2014 and ISO Certified (MS ISO 9001:2015 on 31st of March 2019)
The Top Management is committed to continually improve the QMS of the unit.
The Top Management ensures that it is communicated and understood within the organization and the relevant interested parties and reviewed at prescribed intervals to ensure its continuing suitability.